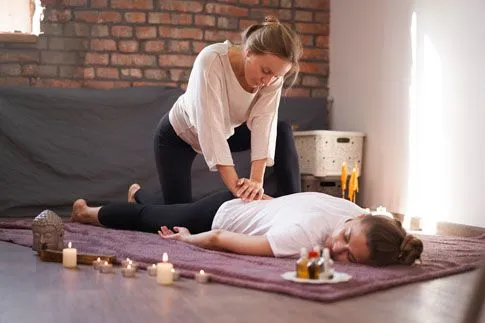 Navarre Chiropractic Center employs a wide range of healing modalities in our efforts to give our patients personalized, holistic treatment plans that produce optimal results. One of the oldest and most time-tested techniques we offer is known as acupressure. If you have a needle phobia or some specific issue that has always kept you from trying acupuncture, you may get the healing effects you seek through this non-invasive form of care. Let's take a look at how acupressure works and what it might do for your health.
Acupressure: A Needle-Free Alternative to Acupuncture
Acupressure and acupuncture both work from the same basic principles. According to Traditional Chinese Medicine, disruptions in the normal flow of qi (life energy) can cause or contribute to any number of health problems. By manipulating specific acupuncture points on the body, practitioners can correct the flow of qi and thus relieve these problems. In modern scientific terms, the manipulations appear to increase circulation, relax soft tissues, and improve nerve function.
Acupressure uses the same "map" of points as acupressure. Instead of inserting needles, however, the practitioner applies pressure, either with the fingers or with tools called acupressure sticks (which also contain essential oils).
One advantage acupressure has over acupuncture lies in the fact that, since it does not invade the skin, you can undergo this form of treatment every other day instead of waiting several days between each session.
What Conditions Can Acupressure Treat?
Acupressure can successfully treat many of the same conditions as acupuncture. It seems to prove especially useful in the treatment of conditions that cause pain and/or nausea. Our acupuncturists may recommend acupressure to help treat headaches, back pain, chronic headaches, arthritis pain, and nausea related to motion sickness, pregnancy, or cancer treatment.
How Navarre Chiropractic Center Administers Acupressure
Our patients sit or lie comfortably on a treatment table while our team administers acupressure. Our acupuncturists will apply pressure to each point (or multiple points) with the pressure gradually increasing for 30 seconds, holding steady for another 30 seconds, and then gradually relaxing for 30 more seconds. The pressure may be accompanied by circular motions at the acupressure points. You'll most likely have this process repeated 3 to 5 times for each acupressure point.
Do you want to experience the benefits of acupuncture without the needles? Schedule therapeutic acupressure at our chiropractic clinic today by calling us at (850) 939-3339.