Chiropractic Care for Sport Injuries
People who play sports of any sort are at risk of suffering an injury. These can range from minor ones like sore muscles to more serious ones, such as dislocated joints. Local residents can turn to Navarre Chiropractic Center for effective and non-invasive treatment for common sports injuries. Whether you have joint pain, low back pain, or discomfort from other personal injuries, our clinic provides chiropractic care to help you feel and perform your best.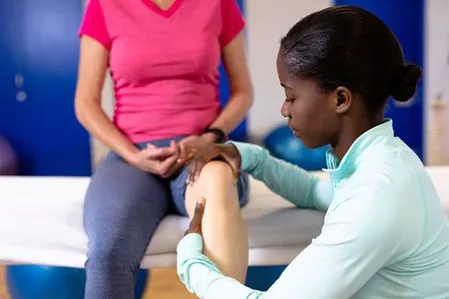 How Chiropractic Care Treats Sports Injuries
For most athletes, the primary goal of sports injury treatment is being able to get back to their sport as quickly as possible. However, they must do this safely, so they end up with a worse injury. Turning to a chiropractor for help can provide relief from the injury. It can also help properly realign the musculoskeletal system, which can help prevent future injuries. Athletes need to practice proper body mechanics when training. Many don't realize that even if they're using those proper body mechanics, the impact that playing sports has on the body can be considerable. For example, it can lead to the spine becoming misaligned, causing problems throughout the body.
When you visit our chiropractors for muscle or joint pain treatment, we will discuss your symptoms and provide a thorough assessment of your current health and medical history so that we can develop a customized treatment plan. The sports you play, the type of injury, and the location of the injury are considered when they're creating the plan for you to follow. The treatments you receive are cumulative, so they will all build upon each other. The relief you feel should increase with each visit, so it's imperative that you keep up with your scheduled appointments and perform the necessary exercises between sessions.
How Does Chiropractic Care Help After a Sports Injury Has Healed?
After an injury has healed, chiropractic adjustments focus on keeping the body in proper alignment. This can help you perform better to continue to improve in your health and athletic performance after recovery. Our chiropractors will also provide you with supportive suggestions that can help to minimize your risk of future sports injuries and keep your body working optimally.
Visit Us for Pain Relief from Your Sports Injury in Navarre
You don't have to continue to suffer from sports injuries. Contact the Navarre Chiropractic Center team at 850-939-3339 to schedule your first consultation. Our chiropractors will develop a customized plan so you can feel and perform your best as quickly as possible.